Aviary Manager
Victor Roubidoux
Victor Roubidoux, an Ioway member, was born in Perkins, Ok. He lived his life in Perkins until he joined the US Army in 1969. He served for 4 years. During his time in the army, he fought in Vietnam for a total duration of 30 months. During this time he earned a Bronze Star with V Device as well as the Vietnamese Cross of Gallantry with Gold Palm.
When Victor returned, he began working for the Iowa Tribe of Oklahoma. He served the tribe by representing them as their Treasurer for 13 years, was the Chairman for the Repatriation and Sacred Sites Committee for the National Congress of American Indians and the Treasurer for Keeper of the Treasures. It was during this time that he developed the idea for an eagle sanctuary after viewing a news clip about an eagle injured in Oklahoma.  This bird was transferred to New Mexico because there was no place for it in Oklahoma. Victor began gathering information and support from the Iowa Nation to begin the project.  Once everything was completed the tribe asked Victor to run the facility. Victor accepted and started training. Since then Victor has ran the facility for more than 7 years, completed 8 eagle releases, saved the lives of 42 resident eagles, and educated more than 8,500 people about eagles.
Aviary Assistant Manager
Megan Judkins (Trope)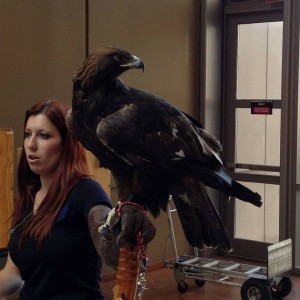 Megan, a Choctaw tribal member, grew up in and graduated high school from Lawton, OK. During this time, she began getting involved in songbird rehabilitation with a local rehabilitator and realized this is what she wanted to spend her life doing.  She graduated from Oklahoma State University with a B.S. in Natural Resource Ecology and Management and a minor in Zoology in 2009 and in 2012 she got her MBA.  While she was a sophomore in college she started volunteering at the Grey Snow Eagle House.  After a year of volunteer time, she was put on part-time while she finished school and then became full time after graduation.  Currently, Megan is the Assistant Manager at the Grey Snow Eagle House and is working on her Ph.D in Zoology studying eagle genetics. To find out more about the research or Megan visit meganjudkins.wix.com/research.
Supervisors
Amy Coleman
Amy is from Roswell Georgia where she graduated from Walton High School in 1998.  She moved to Stillwater Oklahoma in 2002.  She went to college at Oklahoma State University in 2007 and graduated in December of 2010 with a Bachelors degree in Zoology.  She started volunteering at the Grey Snow Eagle House in January of 2011, became a part-time employee in May 2011 and then a full-time employee in June 2011.  She received 100 hours of raptor training at the Birds of Prey Foundation in Broomfield Colorado.  She is currently in charge of the rat breeding program at the aviary and will helps in the education program handling several of the smaller raptors.
Resa Bayhylle
Resa Bayhylle lives in the Perkins area.  She started out her career at the Grey Snow Eagle House as a volunteer in the summer of 2011.  She was hired as a part-time employee and then was transferred to full time status.  She received her migratory bird training the summer of 2012 at the Birds of Prey Foundation and received training from the World Bird Sanctuary in the Fall of 2013 for education bird handling.
Aviary Education Specialist
Jessica graduated from Texas A&M University in College Station, with a B.S. in Wildlife Science, and a specialization in Conservation Biology and Biodiversity.  She was raised in Corpus Christi, Texas, and has traveled many of the United States, South Africa, India, Germany, Spain, and Belize.  Over the years, Jessica's career has taken her from working at sanctuaries with exotic felines and raptors, to creating public programs as an environmental educator at nature centers and camps.  She has experience in rehabilitating, maintaining, training, and free-flying birds at various centers, including the World Bird Sanctuary.  Nationally qualified as a Certified Interpretive Guide, Jessica is a member of the National Association for Interpretation, and the International Association of Avian Trainers and Educators.  Ultimately, Jessica loves sharing her passion for wildlife with others, and is excited to be a part of the team at the Grey Snow Eagle House!
Aviary Assistants
Paul Delaware
Paul Delaware is from Shawnee, Ok. He is from the Delaware tribe and absentee Shawnee. He served his country in the 101st Airborne division from 1969-1972. He went to school at St Gregory's and Rose State College where he was certified as an emergency vet tech. He starting volunteering at the aviary July 2011 and is now a full time employee. He received his migratory bird training from the Birds of Prey Foundation Fall 2013.
Cherlinda Burns
CJ received her training in 2012 through our volunteer program. In 2013, she was added to the staff. She enjoys observing plants and animals and showing compassion to wildlife. She values the promotion of humane education and awareness to encourage compassionate actions to relieve animal suffering and extinction. She will be receiving her migratory bird training from the Birds of Prey Foundation in the Summer of 2014.
Ashley Lonetree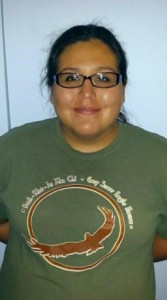 Ashley is a Ho-Chunk tribal member from Indiahoma, Oklahoma. She graduated from Oklahoma State University, in May 2014, with a B.S. in Biological Sciences and a minor in Zoology. During her studies at Oklahoma State University, she conducted research in the environmental toxicology lab. Eventually, she gave in to her love of birds and began volunteering at Grey Snow Eagle House in March 2014. She became a part-time employee in May 2014 and transferred to a full-time employee in June 2014.
Jordan O'hara
Jordan is from Stillwater, Oklahoma. She graduated from Oklahoma State University in the summer of 2013 with a Bachelor's degree in Zoology. She spent two semesters doing research in the Zoology Department's Collection of Vertebrates; one semester digitizing the avian collection and the second semester cleaning and preparing skeletal material. She began volunteering at the Grey Snow Eagle House in November of 2013 and was hired part-time in August 2014. Jordan has always been a huge animal lover and became interested in birds when she was in the first grade and her class incubated and hatched chickens. Her favorite birds are Indian peacocks and burrowing owls.
Abe Lincoln
My name is Abe Lincoln. I am the son of Lydia Renee Lincoln I am an Iowa tribal member and I have been volunteering at the aviary since the summer of 2007. I was hired on as a part time employee, in the summer of 2014. I am a senior at Ripley high school and plan on going to college to further my knowledge on eagles and other raptors.
Keaton Garland
Keaton grew up and graduated high school from Glenpool, OK.She was always active in school sports, as well as spending her free time and summers in the outdoors camping and fishing-especially at Grand Lake.  She has always loved animals and nature and is currently a senior at OSU majoring in Natural Resource Ecology and Management with an option in Wildlife Ecology and Management. She has worked for the ODWC pulling deer jaws, volunteered for Ducks Unlimited and is a member of The Wildlife Society.
Her love of nature led her to begin volunteering at Gray Snow Eagle House in May 2015. She is now a part time employee.